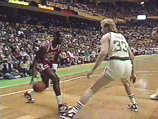 1986 Eastern Conference First Round:

Michael Jordan goes one-on-one with Legend Larry Bird


Michael Jordan was injured for all but the final 18 games of the 1985-86 regular season, but that was more than enough to get him ready for postseason play. In the second game of the Bulls' first-round series against the Celtics, Jordan dazzled a Boston Garden crowd and national TV audience by erupting for a playoff-record 63 points, though Boston won 135-131 in double OT en route to a three-game sweep. Afterwards, Boston's Larry Bird shook his head and proclaimed, "That was God disguised as Michael Jordan."


1989 Eastern Conference First Round:



Michael Jordan got the ball on the right side of the court, his team trailing by one point in the closing seconds of a deciding Game 5 series against the Cleveland Cavaliers. Jordan drove just inside the top of the key and while falling away from the basket to his left, nailed an 18-footer over the outstretched fingertips of a leaping Cavs defender Craig Ehlo for a 101-100 victory. The play is known simply as "The Shot" to both Bulls and Cavs fans.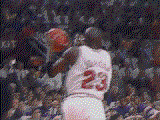 1991 Eastern Conference Finals:

Michael "Air" Jordan took on the entire New York Knicks team on this play. Jordan, trying to create a shot, found himself double teamed. Instead of passing, Jordan reversed baseline and jammed it home over Patrick Ewing.

1991 NBA Finals:



Michael Jordan of the Chicago Bulls drove the lane against the Los Angeles Lakers in Game 2. As he moved past Byron Scott with the ball in his right hand, he took off for the basket intending to dunk. The Lakers' A.C. Green came over to try to help, but Jordan switched the ball into his left hand while in midair and gently flipped it in off the glass. The vintage Jordan play helped the Bulls beat the Lakers 107-86 en route to their first title.

Scottie Pippen stepped up in the NBA finals giving Michael Jordan a second running mate. Pippen proved he was an NBA star. Michael and Scottie running the fast break to profection with Pippen finishing the play with a beautiful finger roll.